Membership Thank-You Gifts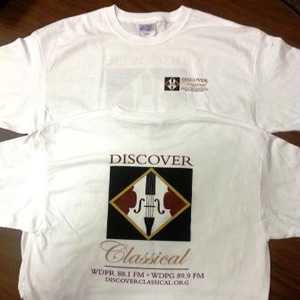 Discover Classical T-Shirt
New Sustaining members at
$120 or above
Become a new sustaining member at $120 or above and you'll receive a T-shirt with the Discover Classical logo on the front and back.
Discover Classical Bumper Sticker and Magnet
$60 or $5/Month
Show other drivers that you support Discover Classical with our 7x3" bumper sticker. The handy magnet is the size of a business card.
Free Oil Change or 4-CD Set
$120 or $10/Month
Get a free oil change from Grismer Tire & Auto Service Centers, or choose a 4-CD set: Bach Masterpieces, Mozart Masterpieces, Rise of the Masters, or Itzhak Perlman: A Portrait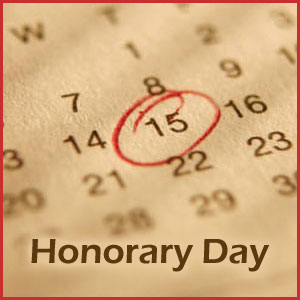 Honorary Day
$180 or $15/Month
Select a day to commemorate a special person or event, such as a birthday or anniversary, and we'll read your announcement on the air.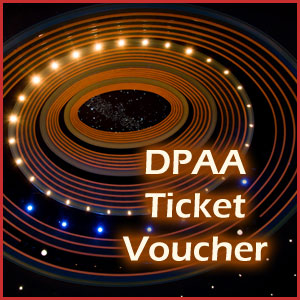 DPAA VOUCHER & Adopt a CD
$240 or $20/Month
Receive two free tickets to an upcoming DPAA event (see the list below). Also "adopt" a CD from our music library. Whenever we play music from that disc, our announcer will read your name to acknowledge your generous gift.
Golf Umbrella or all CD sets
$360 or $30/month
Stay dry with this red golf umbrella with the Discover Classical logo. It's a large 60-inch umbrella with a sturdy wooden handle. Or receive all four CD sets: Bach Masterpieces, Mozart Masterpieces, Rise of the Masters, and Itzhak Perlman: A Portrait.
PLEDGE NOW
Brunch with the Announcers
$500 or $41.66/month
Take a tour of the Discover Classical studios and then join us for brunch with our announcers at a nearby restaurant.
PLEDGE NOW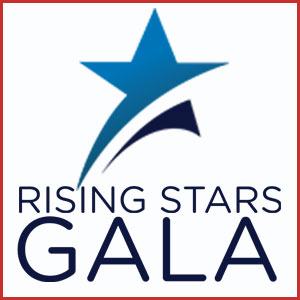 RISING STARS & Haines Society
$1000 or $83.33/month
Receive two VIP tickets to Discover Classical's Rising Stars Gala on June 1, and join the Clark J. Haines Society.
PLEDGE NOW
For a gift of $240, you will receive a voucher for two free tickets to one of these upcoming events presented by the Dayton Performing Arts Alliance. To obtain your tickets in person, bring your voucher to the Ticket Center Stage box office. You may also reserve your tickets by calling (937) 228-3630 or by mailing the voucher to Ticket Center Stage, 138 N. Main St., Dayton OH 45402.
All performances at the Schuster Center, Mead Theatre except where indicated
Please note that quantities are limited and may be subject to availability.
Dayton Ballet—Sleeping Beauty: The Story of Briar Rose
Friday, April 12, 2019 at 8:00 p.m. (B tier)
Dayton Philharmonic Orchestra Masterworks Series—Mauceri Meets Daurov
Friday, May 10, 2019 at 8:00 p.m. (B tier)
Dayton Opera—Salome
Friday, May 17, 2019 at 8:00 p.m. (B tier)
Dayton Philharmonic Orchestra SuperPops Series—Hello, Louis! A Tribute to Louis Armstrong
Friday, May 31, 2019 at 8:00 p.m. (B tier)
Dayton Philharmonic Orchestra Recital Series—Concertmaster's Choice
Sunday, June 2, 2019 at 3:00 p.m. (Open Seating)
Dayton Art Institute Mimi and Stuart Rose Auditorium
Dayton Philharmonic Orchestra Sundae Classics Series—Mahler: Symphony No. 1
Sunday, June 9, 2019 at 3:00 p.m. (B tier)